From February 22 – February 28, Phantom Limb Company members were on campus in a Creative Lab Residency—Artistic Directors Jessica Grindstaff and Erik Sanko along with members of the company visited classes, talked with faculty and conducted workshops as part of their ongoing research process for their latest work Memory Rings. Here are some highlights of their workshop with the Theater Program.
Artistic Directors Jessica Grindstaff and Erik Sanko talk about their process and motivation during this student workshop.
Adapted from notes on the workshop from Jessica and Erik.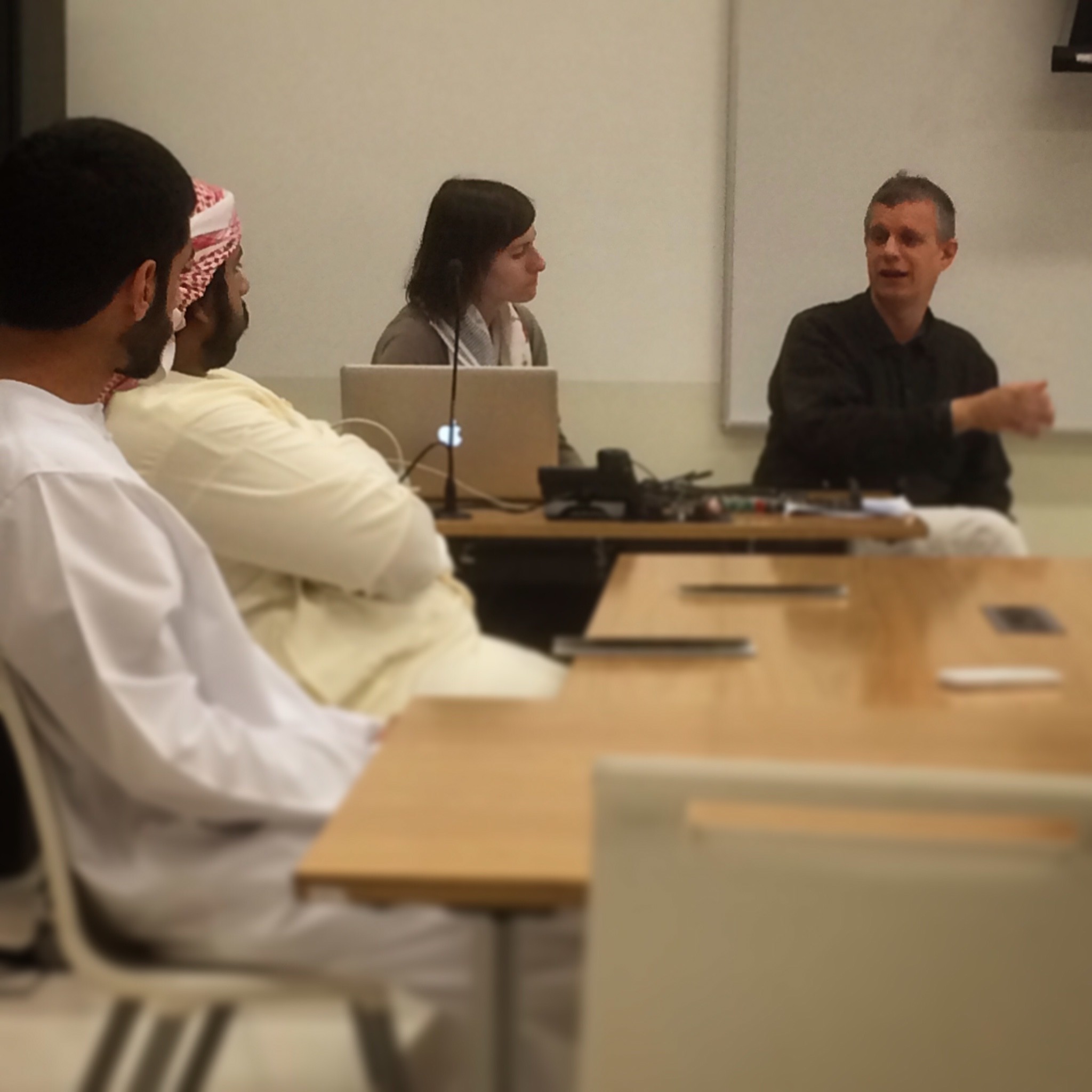 ---
People have used the word devised theatre to explain our process. I suspect that this is just a term that is a catch all for making work without a script and in many different creative ways that get different results. Meaning this is the way that we do it – not the way that it is done- its just what works for us.
It's intuitive.
It's about listening.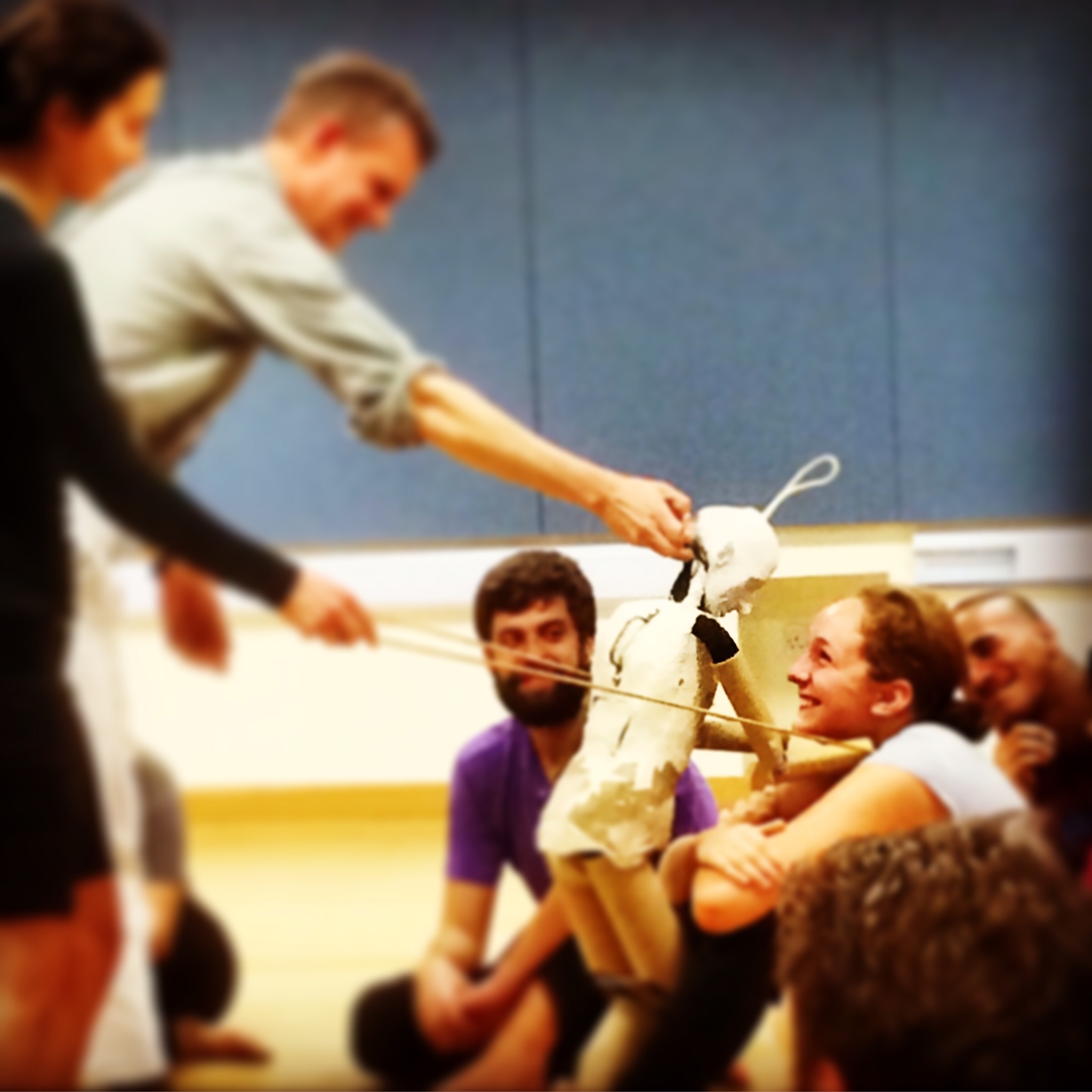 ---
For me it's often slow – sometimes tedious as we look at many different versions of how to say the same thing and often end up going back to what our first impulses were.
There has to be a lot of granted trust in the room. As the director, a lot of time I don't know where I am going with something and it is up to the additive, cumulative effect of everyone in the room to draw that map.
My grandfather told me that I have chosen a life where I will never be able to put my feet up and say that I am comfortable- that I will always live in a place of discomfort of not knowing. That is called being creative.
If there is a clear template for what we are doing or we know how it will turn out then we are doing something that is familiar and that we have done before- and we are not creating.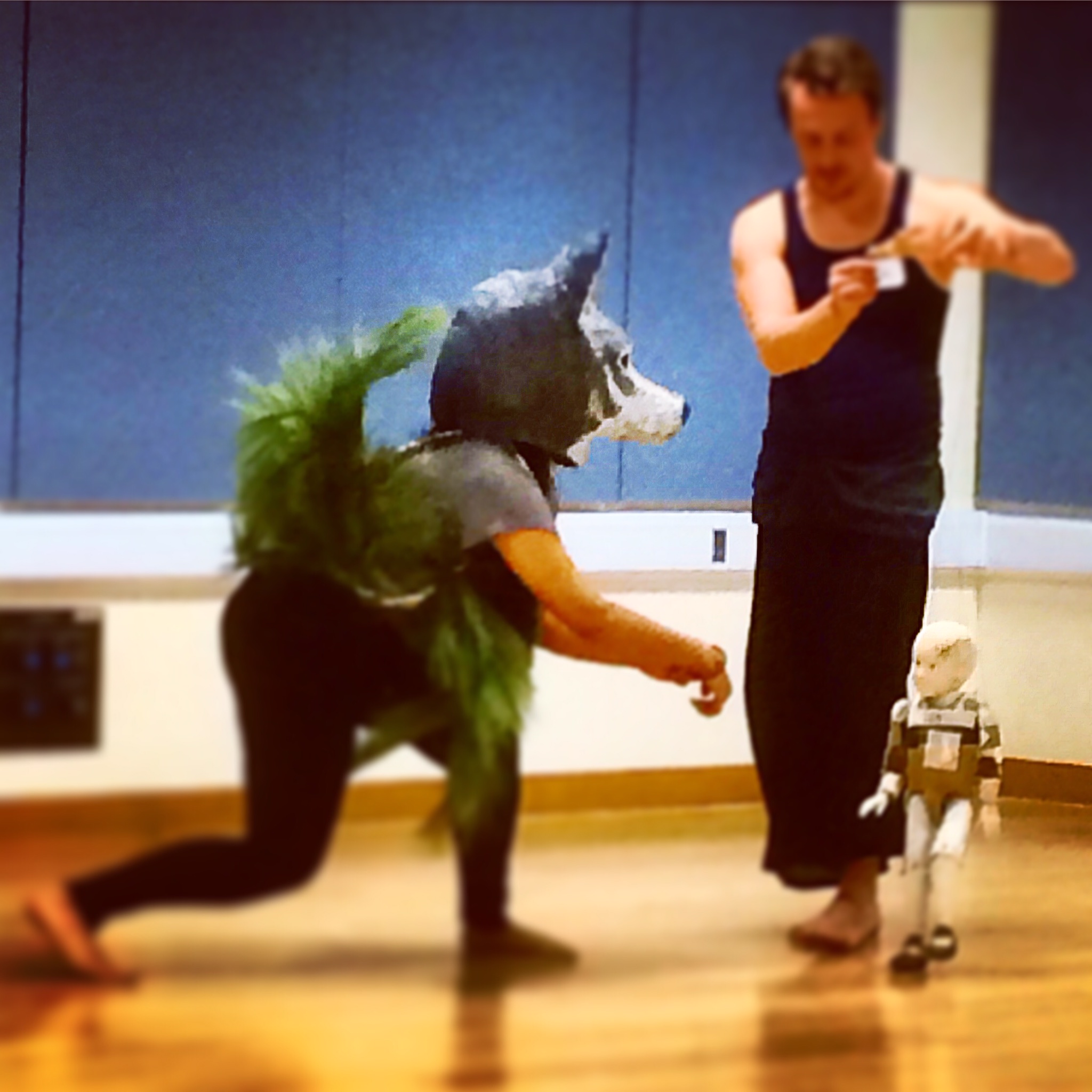 Today from a dramaturgical perspective we are "writing" even though we ultimately will not use any words and are just trying stuff out on our feet.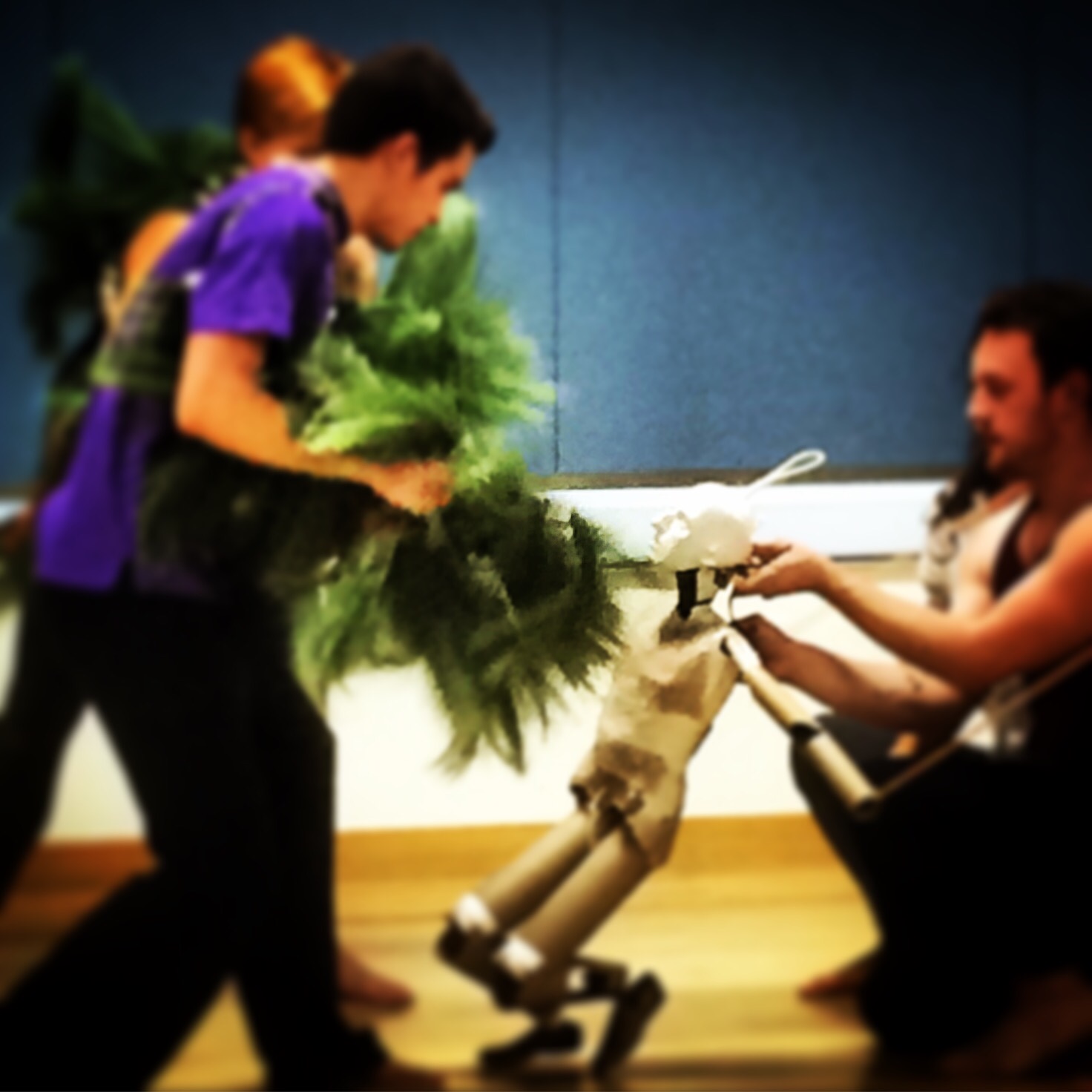 A lot of times a scene will start with an image or an action- something that we feel intuitively speaks to the greater narrative but we don't know how- so we start with that and work backwards. So for example with Snow White and the Seven Dwarves- we were pretty sure that the image of all of the dwarves rolling her offstage was powerful on a few different levels of storytelling but what comes before and after is left to be discovered…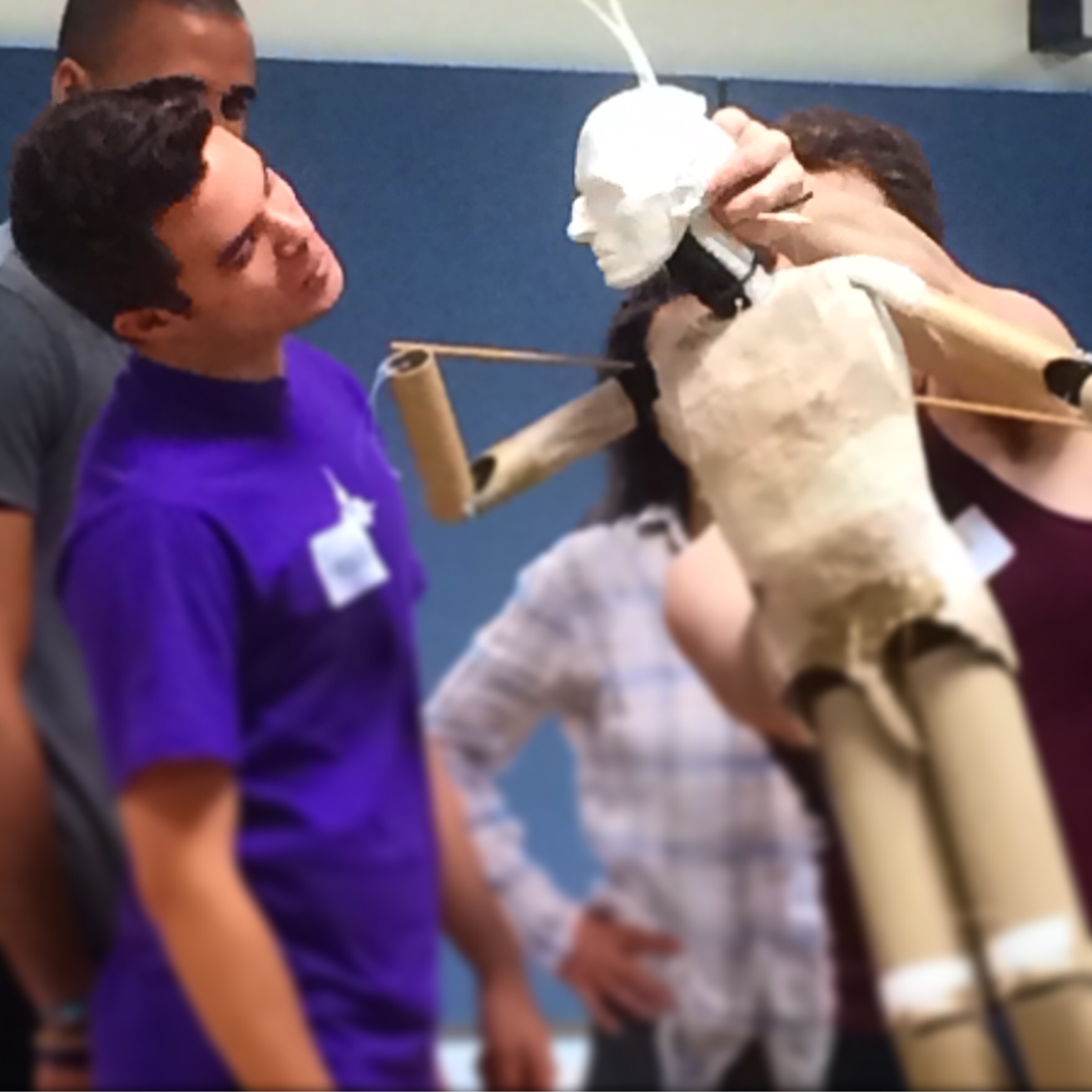 ---
On the use of puppets-
Why use puppets when there are perfectly good actors sitting around in need of work? This is a question we get asked often.

An actor is always going to be an actor. No matter how good they are at crying on cue or twisting their bodies up into comical shapes, at the end of the day they will always be people, perfectly nice people probably, that will go home, kiss their children on the forehead, have a beer and go to sleep.
The model of the actor as the storyteller is certainly good for many people but the spectator/audience member will never be able to get away from the actor.

The thing about a puppet that distinguishes it from an actor is that is has no history, no background and arguably, no inherent personality and no ego to get in the way. Thereby, it is simply a blank canvas for whatever the puppeteer's intention is and for whatever emotion the onlooker is willing to project on it. The puppet can only exist with the investment of the viewer, a perfect way in.
---
The Arts Center is excited to be part of the development and commissioning of Phantom Limb Company's latest piece, Memory Rings: The Life and Times of the World's Oldest Living Tree.
Memory Rings: The Life and Times of the World's Oldest Living Tree is the second part of a planned trilogy of works united by ecological and environmental threads of narrative and research that also includes the company's acclaimed 69˚S, which was inspired by Ernest Shackleton's 1914 Trans Arctic Expedition. The title refers to both the resonance and impact of 4784 years of a living being and the poetry of age shown through Dendrochronology, or aging using the rings at a trees core. The memory of who we have been, the growth of the tree, and the changing environment are all represented with cycles and circles. The tree is a living record of everything that has transpired during its history, standing in mute testimony of civilization's encroachment.
PHANTOM
LIMB
COMPANY
New York City-based, is known for its work with marionette-puppetry and focus on collaborative, multi-media theatrical production and design. Co-founded in 2007 by installation artist, painter and set designer Jessica Grindstaff and composer and puppet maker Erik Sanko, Phantom Limb has been lauded for its unconventional approach to this venerable format. Phantom Limb includes a large rotating cast of friends, collaborators, artists, dancers and puppeteers.
In their short career, Phantom Limb has produced The Fortune Teller, Dear Mme., The Devil You Know with Ping Chong, Lemony Snicket's The Composer Is Dead with Berkeley Repertory Theatre and 69˚ S. with Kronos Quartet. Future productions include Tesla in New York, an opera directed by Jim Jarmusch with Composer Phil Kline, an installation based Peer Gynt in the forests of Norway, a kite opera, and Memory Rings: The Life and Times of the World's Oldest Living Tree.