This article was first published by
Abu Dhabi Week
FEBRUARY
12, 2015
By Jack Dignum

Film fanatics listen up: there's a new cinematic experience in town. The inaugural science film festival kicks off in the capital
Science, for some, ignites memories of a lab at school: wafts of sulfuric acid, screams of squeamish classmates dissecting frogs, baffling numbers related to protons and neutrons scrawled across the chalkboard. If only you could have watched more movies in class, right?
Abu Dhabi is about to host the first Imagine Science Film Festival, a three-day event that will showcase a selection of feature and short films that fuse films and science.
This is thanks to the partnership between New York based film festival, Imagine Science Films, and New York University Abu Dhabi (NYUAD) Saadiyat campus. The festival will be available to the public from 19th to 21st February, complemented by a pop-up art exhibition at the university's arts centre.
The Films
This inaugural event will see three feature-length films and 35 short films from international directors. The festival opens with Watermark by Jennifer Baichwal and Edward Burtynsky, which is a feature documentary that focuses on our reliance on water and how that dependency is re-shaping the world.
Opening night will include a panel discussion – revolving around Watermark – led by four experts in separate fields. Marine biologist and associate professor of biology at NYUAD John Burt is an expert in coral reef ecology. John will be joined by Colin Foord, a fellow marine biologist and cofounder of Coral Morphologic, which makes films dedicated to the waters in Miami, Florida, US.
Artistic director of Early Morning Media Lars Jan, who specialises in live art performance, will also make up the panel. The discussion will be moderated by Mohammed Yahia, a man who has been raising the profile of science journalism in the Middle East for the past six years.
Friday 20th February offers a short film programme from 1pm to 3pm. Shorts: Dreams and Delusions features eight short films ranging from one minute to 12 minutes in length.
From 4pm to 5.30pm, 'Talk: Mouse Confessions', is a discussion that looks at two experimental films by German Boris Hars-Tschachotin and Colombian Luis Nieto that focus on mouse studies.
From 6pm to 8pm, another selection of seven short movies will focus on the technological and social future of human beings. A panel discussion – which will follow the screening – features Mark Farid, John Ingle and Nimrod Vardi, a trio of media men who conducted a social-artistic experiment using Oculus Rift technology, a head-mounted display that covers your eyes.
The panel also includes Louise Hooper, director of When Björk Met Attenborough, which screens at 8pm on the 20th. This 48-minute film explores the connection between music and nature. The screening is then followed by Biophilia Live, which captures the final night of the Icelandic singer Björk's music tour.
Saturday 21st reverts back to a series of short films from 1pm to 2.30pm ranging from three minutes to six minutes in length, before the feature film Sepideh: Reaching for the Stars is screened 3pm-5pm. Sepideh is an Iranian girl who dreams of becoming an astronaut but is limited by family expectations.
Rachel Sussman will then lead a talk on her project The Oldest Living Things in the World – a documentary showcasing her studies on natural phenomena – from 5pm to 6pm.
The festival closes with another seven short films and a panel discussion that focuses on the Arabian Gulf, the science of pearls and the long lifespans of coral colonies. Alexis Gambis moderates the discussion.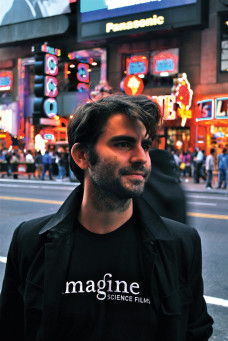 Alexis Gambis
Alexis is a visiting assistant professor of biology, film and new media at NYUAD and is the artistic director and founder of Imagine Science Films. We sit down with the professor to find out more…
Tell us why you're here…
I'm incredibly excited and proud to be a part of the first science film festival in Abu Dhabi. It will become an annual event and hopefully there will be monthly screenings too. We want to raise awareness of the fusion between science and art and we can do that with local and international films. The idea is to promote the intersection and cross talk between science and artists.
Do you think people are disinterested in science due to the way it has been taught in schools?
I'm very frustrated about the way science is taught. There is this notion that science is always objective but science is very lyrical. When I teach, I get my students to visualise science and to create narrative. Across the board I'm frustrated about how science is communicated and even what the definition of a science film is. It's quite limiting in the public eye; there's more to it than the Discovery Channel.
Who are you hoping will come to the festival?
It's exciting because we haven't done it here before. With it being screened at NYUAD we will surely see students from the sciences and arts. On a larger realm, we are hoping to attract people from high schools and labs and we've reached out to the film community including twofour54 and Abu Dhabi Film Festival. We will hopefully have people coming from fields of technology such as the guys who will map Abu Dhabi digitally with Oculus Rift technology.
Which films do you recommend?
I'm excited about the opening film Watermark. The scientific musical with Björk, Biophilia Live, looks very interesting. Then there is Sepideh: Reaching for the Stars, a film about an astrophysicist. Also a girl who was in one of my classes has made a film about gazelles that have been living on a golf course. I won't give too much away but it's the poster of the festival; it's really beautiful.
Jack Dignum is a staff writer at Abu Dhabi Week
SEE
ORIGINAL
ARTICLE
HERE